Suit-Vest has prepared a feast for your eyes. Behold, A Slap on Titan's episodic treatment to fuck-start your soul.
–

Episode 01: Big Trouble in Little Shiganshina
Introducing A Slap on Titan, the hilariously offensive parody of the entire Attack on Titan anime. In the first episode, Eren Jaeger learns dark family secrets, fights with the Garrison, comforts his creepy best friend, and has a very, very bad day.
---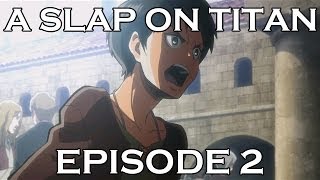 Episode 02: All Aboard the Hate Train
In the 2nd episode of A Slap on Titan, Eren's manhood is questioned, Mikasa unleashes untold physical abuse, Armin discovers a new fetish, and the Gang meets an unstoppable, foul-mouthed force of nature.
---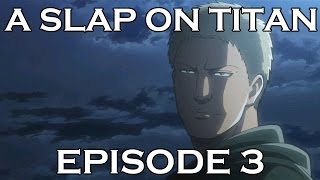 Episode 03: Full Metal Racket
In the 3rd episode of A Slap on Titan, Sarge continues his unstoppable onslaught of verbal destruction, Eren discovers just how much of a failure he is, and the cadets of the 104th are introduced in all of their dysfunctional glor.
---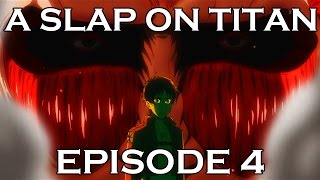 Episode 04: Stranger Danger
In the 4th episode of A Slap on Titan, Sarge evaluates the screwups of the 104th, Eren learns a valuable lesson, Hannes drunkenly stumbles back into town, and the cadets graduate just in time for everything to go straight to hell.
---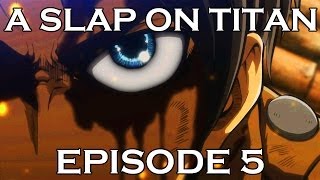 Episode 05: Genocide & Juice
In the 5th episode of A Slap on Titan, Eren battles the Colossal Titan and his endless supply of one-liners, Pixis plays a hateful game of chess, Armin discovers the risks of drug use, Mikasa takes action on her feelings for Eren, and everything comes to a head as the cadets finally face off against the Titans.
---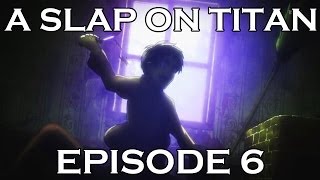 Episode 06: Stabbin' Cabin
In the 6th episode of A Slap on Titan, Mikasa battles Titans and class warfare, Armin experiences his first acid flashback, and the kids face their greatest threat yet…the unstoppable Ascot Man.
---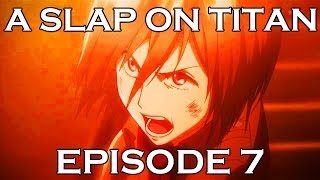 Episode 07: War Goddess
In the 7th episode of A Slap on Titan, Connie inspires the 104th with rampant drug use, Jean finds a new purpose in life, Reiner looks for a helping hand, and Mikasa unleashes the fury of hell on both Titans and cadets alike.
---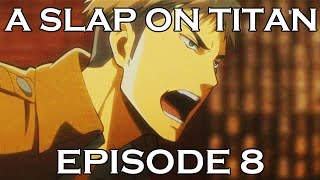 Episode 08: Assault on the Armory
In the 8th episode of A Slap on Titan, Jean discovers just how far he'll go to sleep with Mikasa, Armin uses his dark past to create a better future, Reiner looks to up the ante, and the cadets face off against the Titans in an all-out, desperate fight to the death.
---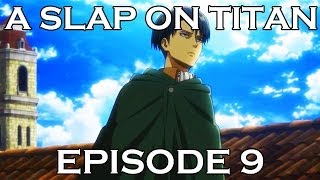 Episode 09: Return of the King
In the 9th episode of A Slap on Titan, we finally meet the Scouting Legion's biggest douchebag, Connie discovers Krista and Ymir's dark secret, Hannes discovers a new way to get drunk, and the gang faces off against Commander Vermin just in time for the epic Season 1 finale.
---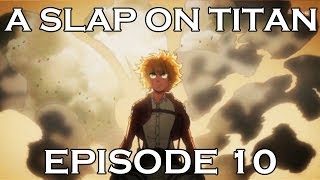 Episode 10: Armin Incarnate *Season 1 Finale
In the Season 1 Finale of A Slap on Titan, the Gang plots a way to escape, Eren remembers his father doesn't love him, the Garrison engage in a team-building exercise, and everything comes to a head as Armin battles the Commander in a duel to the death.
---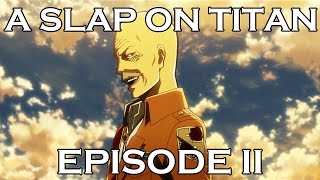 Episode 11: Pixis Likes!
Eren seeks to prove his worth amongst depraved mentors, General Pixis battles low morale and alcoholism, Armin plots and schemes, and the greatest team ever cobbled together by drunks descends into Trost.
---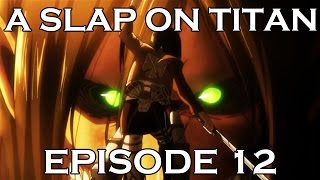 Episode 12: Between a Rock and a Large Face
The mission to take back Trost hangs in the balance. Eren takes the initiative and fails miserably at life. Meanwhile, Armin discovers pain is useful for motivation, Mikasa fights Titans and incompetent teammates, Pixis gets drunk, and Jean faces off against the scariest Titan ye
---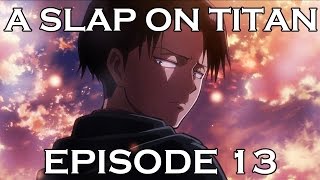 Episode 13: Messiah Complex
The Battle for Trost reaches fever pitch. Jean seeks to evade the ravenous genital-chomping terror stalking him, as his friends take turns proving their worthlessness in battle. Meanwhile, the Special Squad encounters a massive group of Titans blocking the gate. As unexpected foes and allies come out of the woodwork, it all comes down to Eren to finally prove he can actually, for once in this god damn series, do something useful. Also, the Titan Tenors perform a breathtaking rendition of a certain classic 90's song. Ready your hearts, ladies. This one'll make you swoon.
---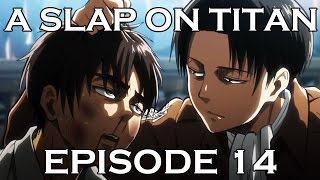 Episode 14: The People vs. Eren Jaeger
Eren Jaeger finds himself fighting for his life in a military trial where all the odds are seemingly stacked against him. Can he and the Survey Corps find a way out? Or is humanity doomed to die within the walls?
---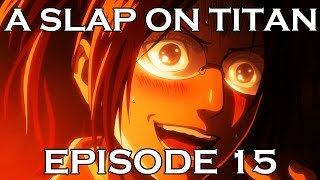 Episode 15: The Depths of Madness
Eren Jaeger is taken to a remote castle by the fiercest warriors of humanity, Squad Levi. Along the way, he learns just how insane the Survey Corps is, as demonstrated by Hanji Zoe. As usual, his dreams are going to be shattered.
---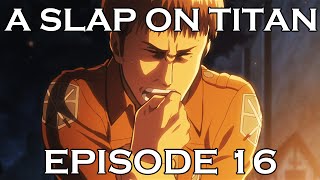 Episode 16: A Midsummer Night's Scream
In the long-awaited 16th Episode, the traumatized cadets of the 104th must make the most important decision of their lives, all while staving off PTSD and sexual inadequacy. Meanwhile, preparations are set for a major operation outside the walls. Will Eren re-unite with his friends? Will Connie ever reach his dreams? Can Commander Erwin convince a single person to join the Survey Corps?
---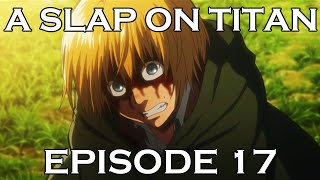 Episode 17: The Crimson King
The Survey Corps embarks upon Operation Space Rainbow, only to encounter danger at every turn. Between titans, dysfunctional teammates, and one very rude, pissed off woman, it'll take a new hero to see humanity through. It'll take The Crimson King.
---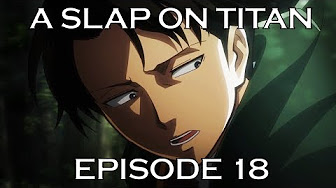 Episode 18: Moves Like Jaeger
As Sarge berates Armin for failing to produce Slap's latest episode in a timely manner, we catch back up with the Survey Corps to find that all is decidedly not well. Our heroes are trapped beyond the Walls and under attack by a dangerous new Titan. Will the Survey Corps be able to survive? Will Eren Jaeger be able to overcome his insecurities? Will Captain Levi ever stop being a dick?
---
Episode 19: Squad Goals
As the Female Titan bears down on Squad Levi, Eren finds himself facing a difficult choice. Can he trust the squad to put an end to this unstoppable monster? Can Commander Erwin put on a halfway decent puppet show? Is it ever a good idea to insert a flashback during an action scene?
---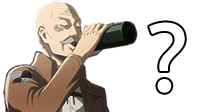 Episode 20
ETA: 2019
---